DraftKings Marketplace & NFTs Roadmap Update
DraftKings Marketplace & NFTs Roadmap Update
By: Matt Kalish, Founder & President of DraftKings NA; Beth Beiriger, SVP Marketplace Operations; and countless contributors across the DraftKings Marketplace Team
It's been quite the year for crypto and NFTs! With so much about to unfold in the DraftKings Marketplace ecosystem in the coming months, we first wanted to provide an update to the community about the Marketplace & where our team is headed this year in our journey to bring you great content and a truly mainstream accessible NFT Marketplace experience.
DraftKings Marketplace was launched in late 2021 with the vision to bring digital collectibles to millions of new and existing Customers, with the DraftKings user at the core of what we do. This new Marketplace would bring premium NFT collections and NFT games across all things sports, entertainment and culture.
We concluded that DraftKings needed to play in the emerging NFT space last year because our Customer drives our roadmap. Insights showed so clearly that our customers were among THE early adopters of crypto and NFTs, and the DraftKings Customer has been among the most engaged within these communities. With millions of active users each year on the DraftKings platform, building a Marketplace as well as curated NFT content for our users was the path to go.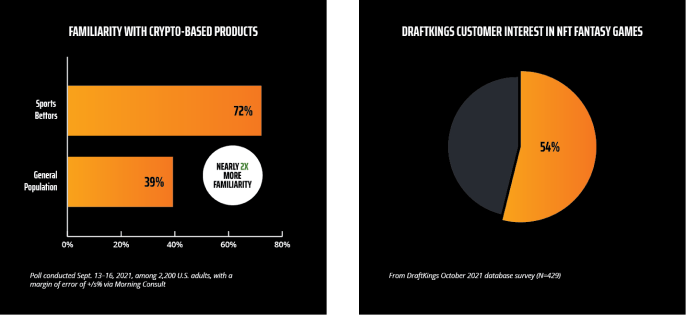 What We Believe Matters
1. Long Term Vision: We believe NFT technology changes the game in many areas including digital identity, gameplay, and collectibles. We want to build towards a long-term vision with a mindset to learn, and with the Customer at the center.
2. Authentic Content: The core of the marketplace should be curated to ensure projects are from premium sources you know, trust, and understand.
3. Easy and Accessible: Using your existing DraftKings account and wallet, you should be able to easily and quickly participate in NFT drops and buy and sell NFTs on the secondary marketplace. We will provide an intuitive user experience that you can use without technical knowledge. In addition, we leverage the Polygon Network in many cases to not only reduce fees on minting and withdrawing but to be more eco-friendly.
4. Trust & Safety: Customers can trust DraftKings to keep your NFTs safe. All users on the Marketplace are subject to KYC procedures, and have DraftKings accounts. Our NFT content is vetted, curated, and authentic.
5. Ability to Decentralize: Users who have the technical know-how and want to manage their own custody can do so as they please and can move their NFTs on and off the marketplace as a personal choice.
Our Priorities
We are making great progress towards our goals, and so we wanted to talk about what has been achieved to date, as well as what is coming soon.
1. NFT Collectibles Projects
Where We've Focused So Far:
• Launching Autograph.io NFTs, which included minting and dropping collections of iconic athletes such as Tom Brady and Tiger Woods

• Expansion to multiple NFT content creators to drop on platform including recently announced Metabilia, and DraftKings' first in-house project

What to Expect from Us:
• Expansion of content including work from new and existing creators, with a focus on curated the offerings from high quality IP and partners
• Additional DraftKings collectible projects, such as the "Primetime NFT Series", which enhance the experience across DraftKings and carry benefits and utility on the platform

2. NFT Driven Gameplay
Where We've Focused So Far:
• Closing multiple partnership deals including an exclusive, flagship agreement with the NFLPA for building football NFT gameplay products


What to Expect from Us:
• This Summer, we are launching a new NFT game franchise, "REIGNMAKERS". Our first release will be "REIGNMAKERS FOOTBALL", the first NFT football game featuring real players through our NFLPA relationship. The goal of Reignmakers is to accumulate and build a custom collection of different tiered trading cards, achieving a broader and more rare collection, and to use those cards to compete in fantasy games against other players. Holding more cards will let you play in more games each week, and higher ranking cards will unlock access to play higher tier contests. You will compete against opponents with their own teams for increasingly scarce NFT cards and other prizes.
• Launch of games from additional partners beyond NFLPA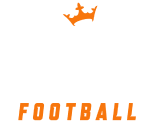 3. Identity & PFP
Where We've Focused So Far:
• Assembling a top-tier content and creative team, and gathering feedback from our community to inform future DraftKings projects.

What to Expect from Us:
• We expect that you will be able to customize your avatar on DraftKings using a NFT Profile Picture ("PFP")
• We expect to drop "PFPs" from our internal teams and from external content partners
• We expect to introduce enhancements to how you can customize your profile over time, including trophy cases for achievements and collection displays
• We expect you will be able to use PFPs in your wallet to use on other platforms, such as Twitter
4. Marketplace Product & Features
Where We've Focused So Far:

• Building an initial experience including Packs, Auctions and a Secondary Marketplace and building a best-in-class in-house team capable of delivering work in Web3 and Blockchain at a faster velocity.
• Forming a relationship with Polygon and building an NFT marketplace accessible using fiat currency via the same account used for other DraftKings products.

What to Expect from Us:
• Crypto Payments: we want to trailblaze on topics like crypto payments. It is a win/win - customers want to be able to pay with crypto, and we want to accept it. By finding the path to launch a capability like this, we believe we live our core values around innovation and focus on customer experience.
• Decentralize Custody of NFTs: Some members of the community want to take their NFTs from DraftKings Marketplace and put them in their own custodial wallet. Some want to onramp DraftKings-minted NFTs onto DraftKings Marketplace to sell on the secondary marketplace through listings or auctions. Both will be made possible.
• Site Experience Improvements, including navigation and search, collections pages, and more features
• Multi-chain support


What Else
We are in the early stages of DraftKings Marketplace, and are excited to share where we're heading.
We aim to be an authentic, Web3 and community first platform that combines valuable, innovative ideas plus utility to our communities. Our focus is and always will be in the best interest of our customers and feedback, ideas, direction, and areas for improvement are always welcomed! You can find us on our Discord channel where you can engage with our team here: https://www.discord.gg/draftki...

We look forward to continuing this journey with our ever-growing community.

Matt, Beth and the DraftKings Marketplace Team